Press release
Renault Trucks becomes ENOC'S newest 'PARTNER OF CHOICE'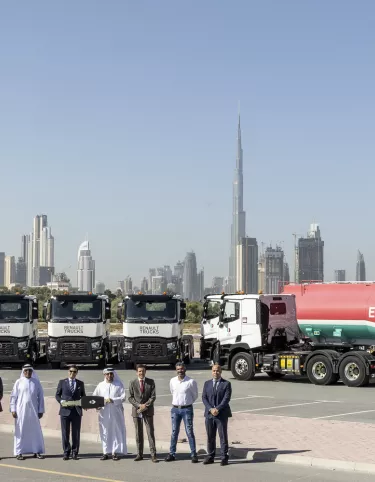 Major fleet deal sees ENOC take delivery of eight new C 380 Tractor Heads from Renault Trucks
Major fleet deal sees ENOC take delivery of eight new C 380 Tractor Heads from Renault Trucks All vehicles supplied though United Diesel, exclusive authorised distributor for Renault Trucks in Dubai and Northern Emirates
ENOC Group, a leading energy player operating across the energy value chain, has taken delivery of eight new C 380 Renault Trucks models, which will be used to deliver fuel to the Group's service stations across the United Arab Emirates. All vehicles are supplied through United Diesel, a member of the Al Rostamani Group. Renault Trucks' exclusive authorised distributor for Dubai and Northern Emirates.
The purchase of the new trucks, which will enhance the Group's existing fleet, is in line with ENOC's plans to partner with leading global brands that offer customer-friendly, cost-effective solutions. Renault Trucks and United Diesel will be delivering the highest standards of specialist after-sales support to ENOC, including 24/7 support, driver and technician training, and a comprehensive repairs and maintenance contract.
The Renault Trucks C 380 Tractor Head 6x2 with rear liftable axle offers superior driver comfort, exceptional reliability and optimal fuel efficiency, making it ideal for regional and long-haul applications. It is equipped with a range of features ensuring a high level of safety, for the driver as well as for other road users.
The cab of the C 380 is built around the driver. All controls are at the driver's fingertips, while there is also a 7'' HD LCD information display and seats with fitted red seat belts designed by Recaro®. The design of the windshield and side mirrors guarantee clear visibility around the cab with minimum blind spots, essential for helping keep other road users safe.
Other safety features include an automatic parking brake, EBS (Electronic Braking System), ESC (Electronic Stability Control) to help maintain route stability control in difficult conditions, and AEBS (Advanced Emergency Braking System), which uses a radar unit and a camera to detect an imminent risk of collision. The LDWS (Lane Departure Warning System) alerts the driver when it detects the vehicle is unintentionally deviating beyond the lane markings, so they can react in time to avoid an accident.
The C 380 is equipped with a fuel-efficient DXI 11 Euro 5 engine and OPTIDRIVER gearbox, which combine to help minimise fuel consumption and reduce operating costs. The trucks are also fitted with CALS (Centralized Automatic Lubrication System), to ensure maximum uptime and lower service and repair costs.
H.E Saif Humaid Al Falasi, Group CEO of ENOC, said: "We pride ourselves on our robust retail network and our capabilities in ensuring an uninterrupted supply of fuel to meet our customers' demand for fuel. Working with reliable partners such as Renault Trucks and United Diesel will without a doubt allow us to enhance our operational efficiency and adhere to best HSE and industry practices."
Guillaume Zimmermann, Commercial Director of Renault Trucks Middle East, commented: "We are proud to be entering into partnership with one of the Middle East's leading energy companies. The fact that a Group as prominent as ENOC has taken delivery of its own Renault Trucks fleet speaks volumes about the quality of the all-round package we are able to offer. The C 380 is an ideal truck for fuel tanker applications, where a robust chassis is an essential factor in its selection, while offering equally unbeatable standards of safety, reliability and cost-effectiveness."
Mr (Mike) Mokhles Makary, General Manager of United Diesel, said: "United Diesel is very pleased to be a strategic business partner for ENOC. Our success in securing this order was a testament to our ability to comply with ENOC's strictest and most complex specification requirements. We are delighted that ENOC has placed its trust in the performance of Renault Trucks, and we are confident that this important order will pave the way for a longer-term association with ENOC as a preferred supplier for future projects."