Kuljetusratkaisu
Efficiently managing your waste collection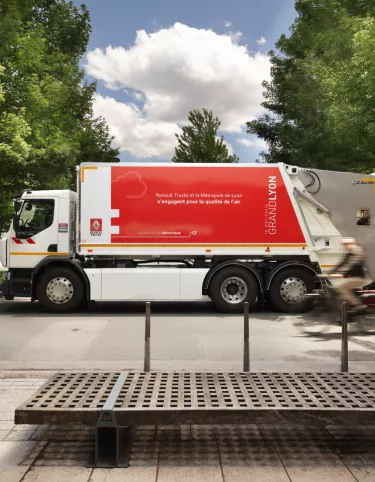 To easily manage your rubbish collection activity, Renault Trucks accompanies you to choose municipal trucks and services well-adapted to your daily tasks.
Waste collection trucks: the right truck for the job
Waste management can have varying factors depending on its location. Whether the collection is set to occur in the city centre, in suburban areas or waste management on industrial sites, you will need the right truck for the job - specially designed for the task.
To help you make the best choice, Renault Trucks relies on its Renault Trucks Master and Renault Trucks Master Z.E. chassis cab, the Renault Trucks D and D-WIDE, with either a diesel or electric engine.
In total, several dozen wheelbases and configurations are available - ranging from 3.3 to 32 tonnes in permissible total weight.
For urban and suburban collections, our Renault Trucks D and D WIDE models combine a high payload with excellent manoeuvrability, fantastic visibility and large loading capacities. The countless configurations suggested are particularly well-suited to waste management - namely the 6x2*4 version of our D WIDE model, which has a second steering axle to make manoeuvres easier in towns.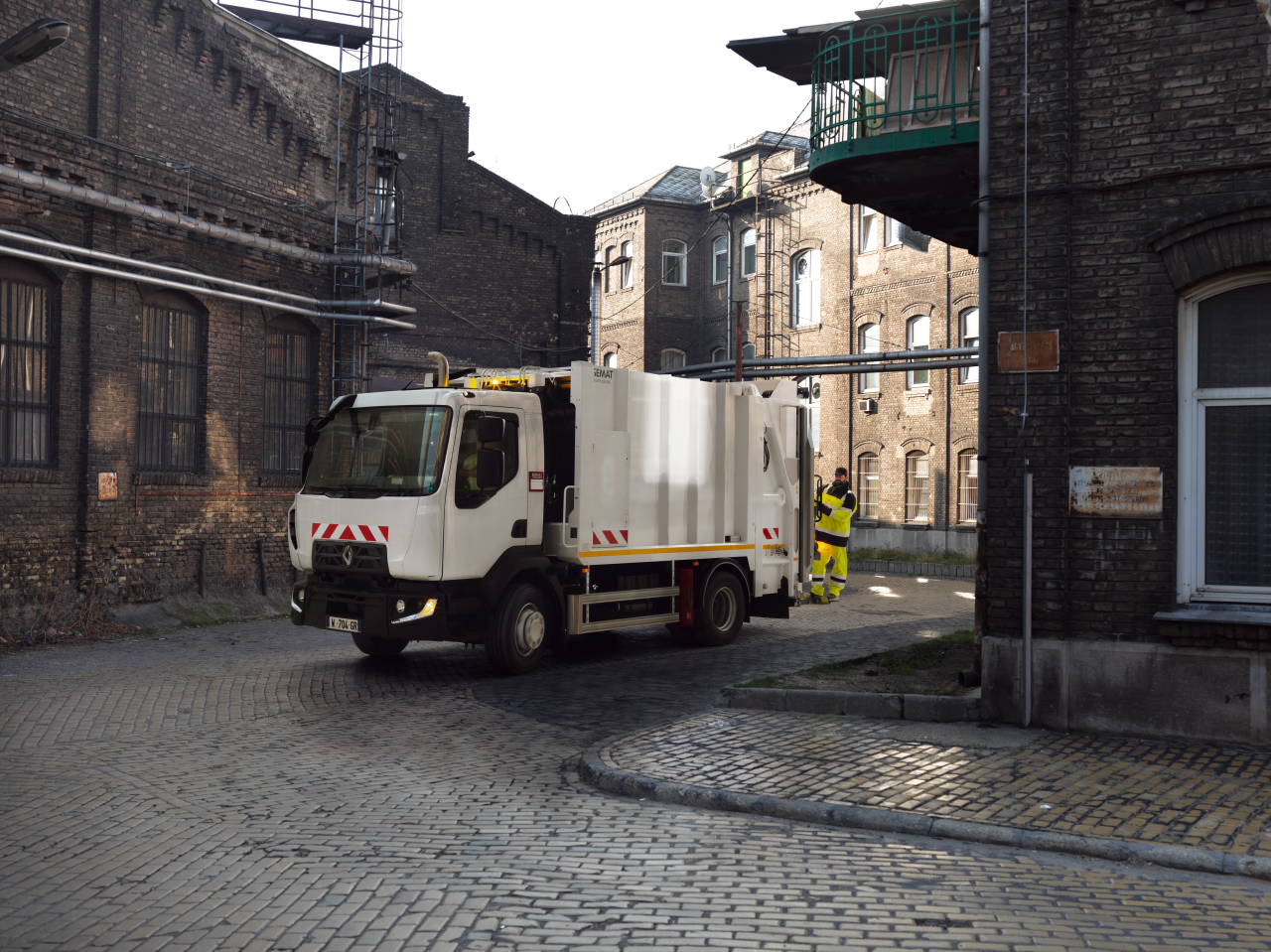 If your activity is more focused on industrial waste management, which requires larger payloads and more power, our Renault Trucks C model is ideal for installing removable skips, refuse skips coupled with a crane, or conveyor belt. The Renault Trucks C line offers up to 22.8 tonnes of payload and engines ranging up to 520 hp. for activities requiring heavier loads.
Quickly install the bodywork of your choice
Waste collection can come in many different forms and requires extremely specific bodywork. In helping you choose the best for your specific operational requirements, Renault Trucks works closely with bodybuilders. Our vehicles can be specified to accept a wide range of bodywork, thanks to their range of options, including specific overhangs with pre drilling, and options for body mounting plates to suit the body type. Thanks to pre-equipment and to the Bodybuilder Portal, a website dedicated to body-builders detailing the specific technical sheets for each vehicle, the operators' work is made easier and delivery lead time is reduced.
Rubbish trucks are going green
Renault Trucks offers natural gas or 100% electric alternatives. Many local councils have already chosen natural gas-driven trucks for their waste collection. With its 239 kW (320 hp) engine and an operating range close to 500 miles, the Renault Trucks D WIDE CNG model can be used both in urban and suburban areas, and is designed to be fitted with the same bodywork as other vehicles from the D range.
Renault Trucks is also committed to zero emission mobility with its Renault Trucks D andv D-WIDE Z.E. models, which are 100% electric.
A 26-tonne refuse skip, whose bodywork was done by Faun Environnement, has been in use in and around Lyon, in France,  since 2019. 
Waste collection is an activity to which electric vehicles are particularly well-suited. The use of refuse skips requires high fuel consumption, and emits large quantities of dust and particles - whereas electrical vehicles do not emit any.
Fully electric vehicles can also access certain restricted and low emission zones.
to 800 per round
This is the average number of stops and starts observed during a waste collection route.
Optimize your fleet management
Choosing your waste collection route is particularly important in terms of efficiency, and can be regularly modified. Our smart fleet management solution - Optifleet - helps you plan your routes in the most efficient way possible, and view your trucks' real-time location. If your activity is subcontracted, Optifleet enables your partner to recover and integrate data into their own management system.
Furthermore, the system allows for precise consumption and equipment usage data to be sent in: standby use of the skip, slow driving, how many times the brake pedal was applied, etc. You can also configure a threshold level to alert you if the vehicle over-consumes, and assess your drivers based on technical and objective data. For instance, you can implement a training course efficient driving. Optifuel Training courses are taught by Renault Trucks experts to your staff, in real life conditions.
Waste collection: make your employees' job easier
Your employees climb into and out of their trucks very regularly during waste collection. With this in mind, we designed vehicles with smaller step heights and doors opening at 90°, to make movement easier. Our vehicles were designed to ensure excellent visibility and a short turning radius. For instance, the 6x2*4 configuration means an additional rear axle can be installed to make shorter turns easier, which is particularly useful for refuse skips that need to drive through towns.
On board the truck, everything was designed so drivers could have all they need to work in the very best conditions. The spacious cabs are fitted with comfortable seats, and can accommodate up to 7 places with the crew cab version. There is also lots of storage space for employees to keep their belongings in. On the outside, they can store their work tools in the specially-designed chests installed on the chassis.
To make driving more pleasant, Renault Trucks offers automatic gearboxes on all its models, and a dashboard with easily-accessible commands. In aiming to ensure optimal safety, the Renault Trucks D line also has:
A vision door

An automatic emergency braking aid

Hill-start assist.
Reduce your maintenance costs
Vehicles dedicated to waste collection demand substantial investments. It is therefore important to ensure high performance in the long run. Renault Trucks offers personalized maintenance plans, that take the vehicle's specific use into account. In the case of refuse skips for instance, the frequency at which oil changes are recommended will be based more on a time frame than on mileage.
To prevent breakdowns and intervene before they even happen, Renault Trucks has developed a predictive maintenance service: Predict. A digital platform registers your vehicles' behavior and actual use. When an intervention is deemed necessary, the platform warns your advisor. They then contact you to schedule the work to be done before a breakdown occurs. As such, you have better control over vehicle availability, and can prevent any unforeseen repairs.
If a part needs changing, Renault Trucks also has an eXchange programme. This service allows users to purchase renovated parts at a cheaper price, once they have been reconditioned in our specialized factory. Following that, the parts are all tested and approved to make sure they meet the same requirements as new products, and benefit from a two-year fitted parts warranty.
Finance and insure your municipal trucks
We know your activity and all the constraints linked to waste management. Therefore Renault Trucks can provide efficient financing support. Your advisor will determine the best solution to finance and insure your fleet.