Press release
New fleet deal for ten Renault Trucks k 480 6x4 tractor in fujairah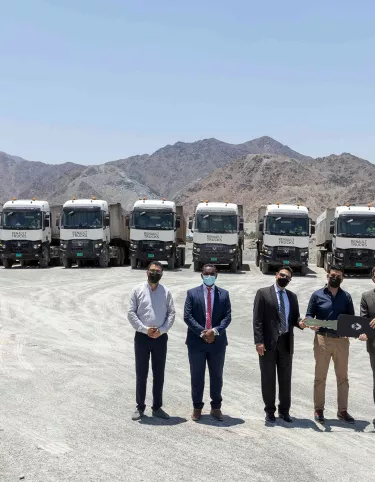 Heavy-duty construction models delivered to UAE transportation company, Al Jadawel Land Transport
Heavy-duty construction models delivered to UAE transportation company, Al Jadawel Land Transport Fujairah-based company planning to switch entire fleet to Renault Trucks models K 480 models prioritize driver comfort, reliability, and fuel efficiency to maximize profitability
Renault Trucks has announced the delivery of ten K 480 heavy-duty construction models to one of the UAE's leading construction material transportation companies, Al Jadawel Land Transport.
The ten Renault Trucks models are part of a total fleet size of 98, and Al Jadawel Land Transport plans to turn the whole fleet to Renault Trucks by end of next year. The Fujairah-based company will be using the new models, which have been supplied by Renault Trucks' partner in the United Arab Emirates, United Diesel, to transport aggregate from the crushers in the Northern Emirates across the country.
The Renault Trucks K 480 Tractor Head 6x4 models purchased by Al Jadawel Land Transport deliver the highest levels of driver comfort, reliability, and fuel efficiency. They are equipped with a range of features that are designed to optimise productivity, minimise downtime, reduce operation costs and maximise profitability. Designed to operate in extreme conditions, their outstanding technical capabilities meet and exceed customers' day-to-day requirements.
The K 480's spacious, well-appointed cab is built around the driver. All controls are at the driver's fingertips, while there is also a 7'' HD LCD information display and seats with fitted red seat belts. The design of the windshield and side mirrors guarantee clear visibility around the cab with minimum blind spots, helping keep both occupants and road users safe.
There are numerous safety features designed to assist the driver in difficult conditions, including EBS (Electronic Braking System), Hill Start Aid (HSA), Anti-Slip Regulation (ASR), Anti-lock Braking System (ABS) and Emergency braking assist (AFU). A Tyre Pressure Monitoring system (TPMS) is also fitted to ensure operators benefit from the maximum lifetime of the tyres.
The K 480 model is equipped with a fuel-efficient DXI 13 Euro 5 engine, developing 480 hp and torque of 2,400 Nm, and an Optidriver gearbox with automated clutch. They combine to ensure the highest standards of productivity while minimising fuel consumption and reducing operating costs. Cruise control is also fitted as standard on C & K ranges.
Mr. Najah Al Tahir, owner of Al Jadawel Land Transport, commented: "We are incredibly proud to have struck this deal with Renault Trucks. With operations across the UAE, which is known for its tough terrain and high temperatures, we require trucks able to withstand these harsh conditions. The brand's range has a reputation for being able to meet and exceed our needs, which is why we aim to switch our whole fleet to consist only of Renault Trucks models by 2022."
Commercial Director of Renault Trucks Middle East, Guillaume Zimmermann, said: "Al Jadawel Land and Transport's purchase of K Range models is testament to the truck's robustness and its recognised contribution to the construction and transport business around the region. Renault Trucks' K Range leads the way in terms of fuel economy and uptime, which are key in this very demanding segment. We are seeing more and more customers working with crushers in the Northern Emirates shifting to K models, which is certainly not a coincidence!"
Mokhles Makary, General Manager of United Diesel, commented: "This latest fleet deal is due to the quality of the Renault Trucks produce line-up, but also to our dedication for delivering the highest standards of customer service in the UAE. With fully trained and specialised service, our fully equipped service centres, we are able to deliver an excellent customer support, which we are confident will help to pave the way for further such deals and partnerships in the future."